Throughout this pregnancy I've done a couple of comparison photos between when I was expecting Kai in 2009 and now. Neither of these photos is very flattering, and the proportions are a bit off, but there's no denying that my belly is surely bigger this time around. Last time I was measuring small almost the entire pregnancy, this time I'm right on track.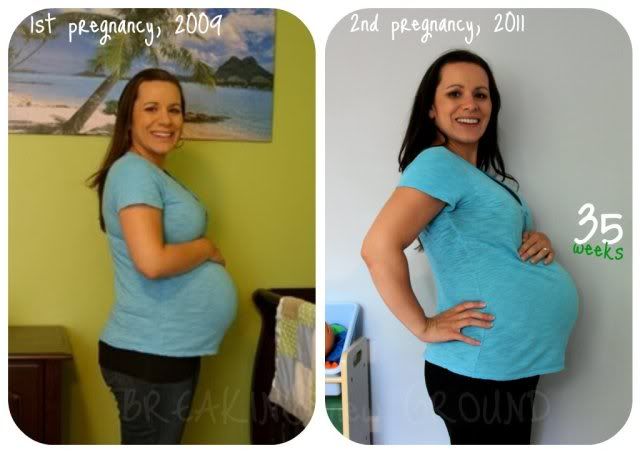 How far along?
35 weeks (previous pregnancy post
here
)
Total weight gain/loss:
30lbs.
Stretch marks? unfortunately.
Maternity Clothes: if I could wear my swim suit or pj's wherever I went, I'd be happier.
Sleep: Ben + I switched sides of the bed to accommodate the new co-sleeper and get used to it before baby arrives. It has been weird.
Best moment this week
:

Malakai has taken to rubbing my belly at random.
Movement: lots of rolling around in there. He also gets the hiccups at least once a day.
Gender: little bro!
Labor Signs:
I had some super intense pains in my side on Thursday. I got a glimpse of labor and realized that even though I've done it before, I'm not nearly as ready as I thought I was. yikes!
Food Cravings: today I saw an ad on the side of a bus for big macs...and wanted one. It kind of grossed me out.
Belly Button in or out?
flat again.
What I miss: having a name. Lately I get every nickname ever invented for pregnant women, and then some.
What I am looking forward to: meeting our son. It's becoming so real, which is a little overwhelming but definitely exciting.
Weekly
Wisdom
: don't stress, take each day one moment at a time and enjoy the rest of pregnancy. I know from previous experience that I'll miss it when it's over.
Baby Brain Moment of the Week: Nothing out of the ordinary.
Milestones

: I set up the co-sleeper in our room and organized all of the teensie newborn clothes.