Ben + I decided that as long as Malakai is young enough not to ask for a specific theme for his birthday parties that we'd choose ones we liked. (EDIT: I should say he thoroughly enjoyed the robot theme now that he's old enough to notice). Last year was
pirates
and this year was between dinosaurs and robots, we went with robots. Of course we always choose a theme that is hard to find premade decorations for, but that means our party ends up one of a kind! Last year's pirates stuff was homemade and a collection of things found and purchased at quite a few different places. This year pirates stuff is EVERYWHERE, oh well. With robots I found even less store bought things which posed a challenge for favors, but I think I pulled it together pretty well.
I started out with a set of free printables from
this website
. The original plan was to use these little guys all over everything. When it came time to print just days before the party it turned out that not everything was going to work the way I wanted. I couldn't find a 1" or 2" round craft punch for the cupcake toppers and the water bottle wraps wouldn't work on the cups like I had hoped. I went to
picnik
and created my own toppers and cup labels as well as a few other items.
I made this little sign to greet guests. This way everyone could just let themselves in and nobody had to stand watch at the door.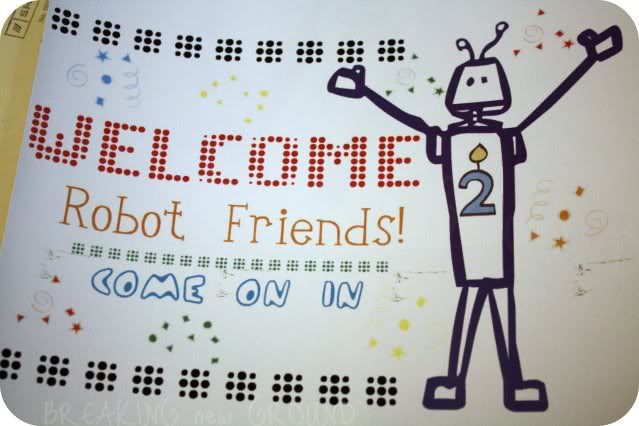 I went for an eclectic look using lots of white and primary colors. This also made my shopping a bit easier. I got these adorable party hats at Target and simply printed some robots onto sticker paper and we had instant robot party hats!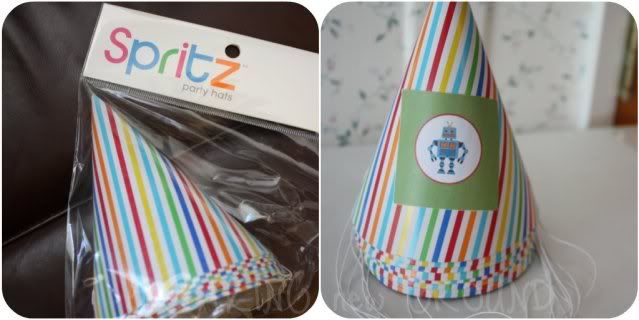 I did the same thing with some plain blue cups from the Dollar Tree and served cupcakes on the matching blue plates (but without the robot stickers).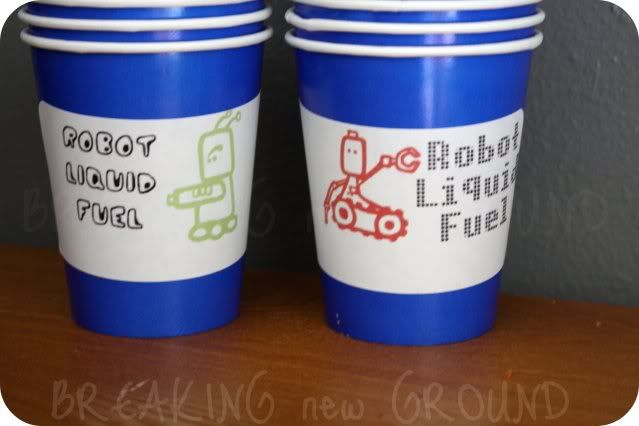 For the cupcakes I just printed the toppers I made with picnik onto cardstock and then cut them with an oval cutter my mother-in-law had. I taped toothpicks to the back and they were ready to go!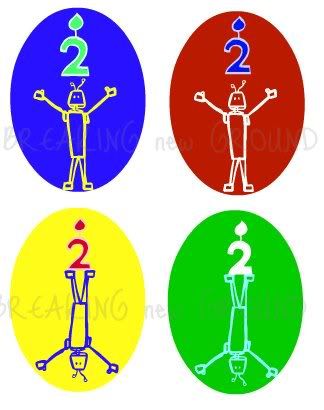 I wasn't planning on adding any colored frosting to the cream cheese frosting I made for the funfetti cupcakes, but I had a bunch of blue left over from writing on Kai's cake that I decided to embellish some with 2's and confetti like squiggles.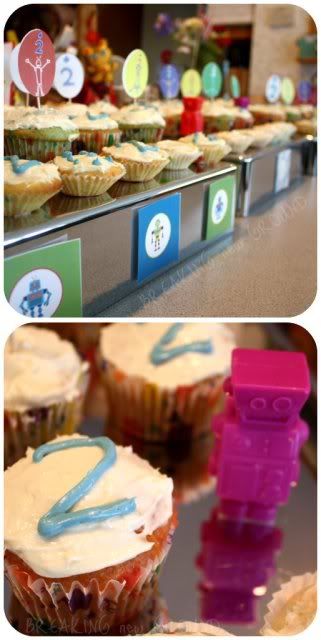 The little robot guys among the cupcakes are actually bubbles! I found them on amazon.com and used my free 2 day shipping to get them here quick. I had enough to decorate with as well as include one in each favor bag.
For the favor bags I had a little too much fun. I started out looking in stores and online for cute little toys but didn't have much luck. So I went back to my printable robots and stuck them to various things to go with the theme. In addition to the robot bubbles I had made some playdough and simple sealed it up in babyfood jars I had been hanging on to for far too long. I painted the lids with chalkboard paint and then wrote on the tops with chalk ink. I had all of these things at my house already.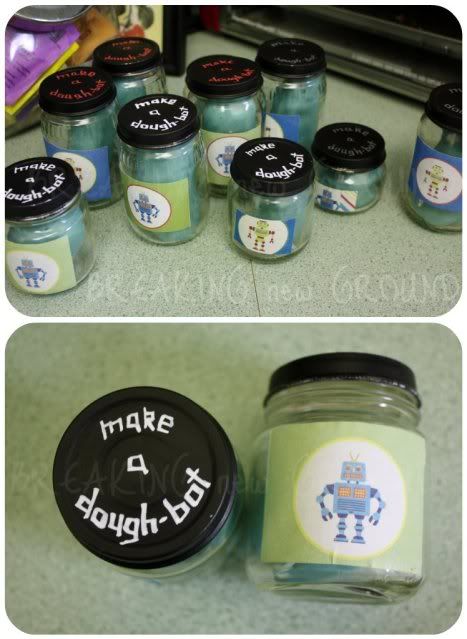 The inspiration for make a "dough-bot" came to me as I was putting them together. I was so proud of my cheesy play on words that I had to announce it to Ben as soon as I thought of it. He's so sweet for putting up with me sometimes. The best part is that at first Malakai pronounced the word robot as "dobot" so it was a sweet little touch from him as well.
I grabbed fruit snacks at Target to include at the last minute instead of candy and as I was stuffing the bag I got another random urge to play on words. When I realized that the bags said "Mott's for tots" I had to change it to fit our theme...intro more sticker paper...
I obviously didn't strive for perfection here. It was late at night and I just went to work at getting things DONE. I threw in a couple of robot stickers, topped it with the "thanks for coming" label and that was that.
Ben was tasked with making the robot centerpiece. I bought him a package of foam sheets at the Dollar Tree, borrowed googly eyes and pipe cleaners from his mom, and let him go to work with items we had around the house (and a origami box I made for the head). He did GOOD!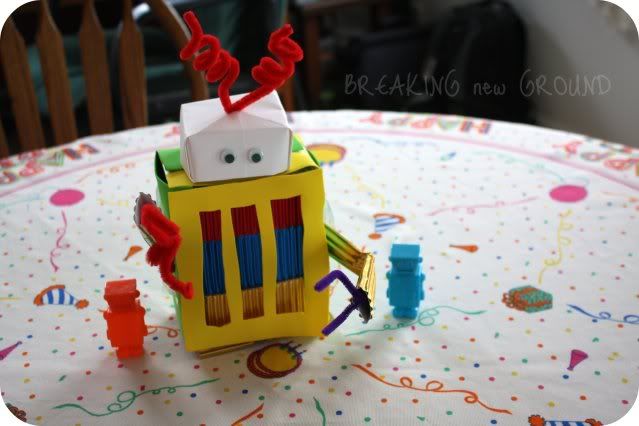 I made some zigzag streamers by cutting opposite sides down regular crepe paper streamers, alternating all the way down. Ben grabbed some balloons at the last minute (local people, Rite Aid is the cheapest to fill balloons at .25cent a piece!)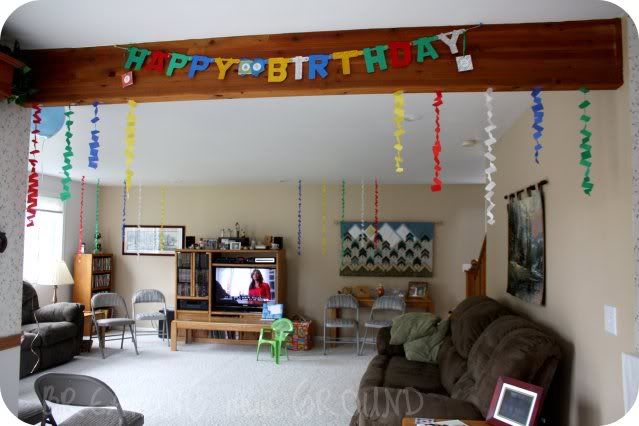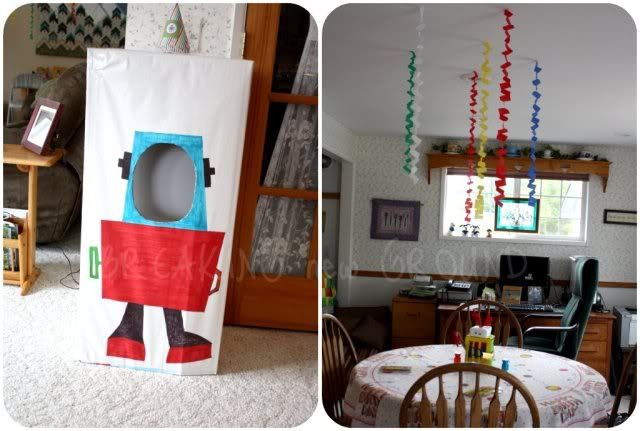 Ben's mom made this cut out robot and surprised us with it when we came over.
I also used picnik to make the robot coloring sheets which were quite a hit with Malakai's guests.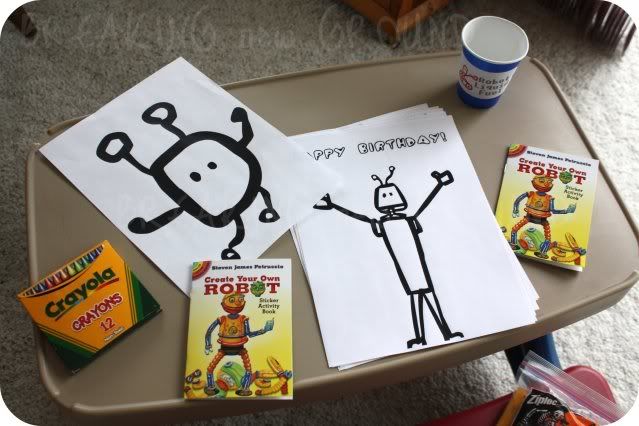 Lastly, I embellished a cardboard box with some corrugated craft paper for the favor bags that each little guest got to take on their way out. The favor bags came in handy when Kai's little friends didn't want to leave the birthday presents behind.
All in all I'm happy with the way it all turned out and am looking forward to decorating for next year already!