Sorry this announcement was delayed by yesterday's anniversary celebrations. Thank you all for the well wishes. We had a great evening out and Malakai enjoyed his time with Mima.
The winner of $15 gift card to
EcoMom
is...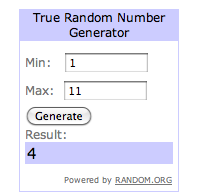 Congrats! I've sent you an email, please respond within 48 hours to claim your prize.
The rest of you should head over to
EcoMom
and check out their great selection of natural and organic products. I got ALL of Malakai's
birthday presents
there this year!