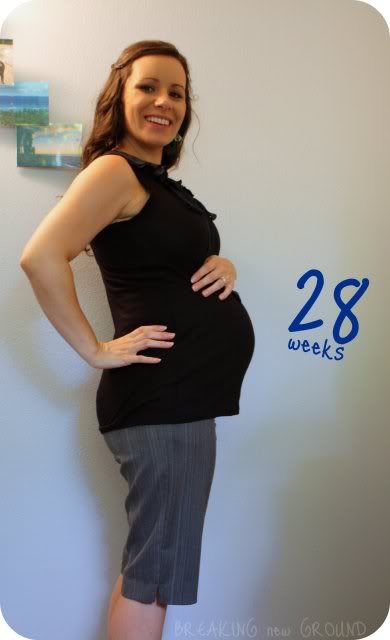 How far along?
28 weeks (
comparison of last pregnancy- my face was a lot bigger already
)
Total weight gain/loss:
up 23 lbs. total. I'm 6 lbs. less than what I weight last time.
Stretch marks?
nothing new.
Maternity Clothes:
are getting increasingly frustrating.
Sleep:
awesome the last couple nights compared to friday night. toddler + hotel= no sleep.
Best moment this week:

Megan + Michael's wedding on Saturday.
Movement:
like crazy. I've started to feel him up in my ribs while I'm sitting.
Gender:
BOY!
Labor Signs:
just a couple braxton hicks contractions, nothing else.
Belly Button in or out?
on it's way out.
What I miss:
life without aches, pains, and leg cramps.
What I am looking forward to:
next month's babyshower. It'll be so fun to gather with everyone.
Baby Brain Moment of the Week:

If I set something down without making a specific note of where it is, I instantly forget.
Milestones

: my belly moves visibly with just about all of his turns and kicks these days.