I am so beyond blessed by the number of people who have shared
our fundraiser
on facebook, twitter, and their websites. I am also shocked by the response in donations. Honestly, I'd feel blessed if we ended up with one $5 donation because we are that much in need right now and I truly feel that every little bit helps. I will report the total donated amount when we get to the end of the
giveaway
. I will also post info on how to donate in general once the giveaway is over for those that want to use paypal. For now, the giveaway + fundraiser is still underway through June 14th so if you haven't shared + taken advantage of the free entry, there's still time!
This week I'm thankful for...
671. the first little sprouts in my newly planted garden + the strawberries I inherited are finally turning red. It feel so good to nurture something and have it grow!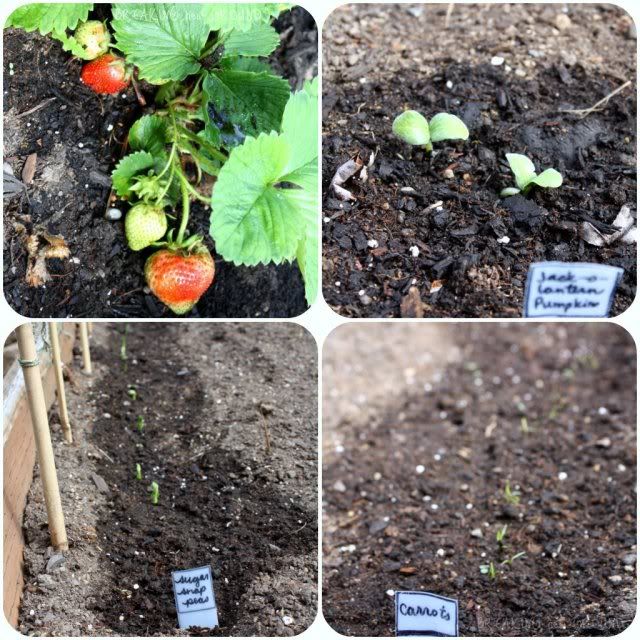 672. a very active baby bean, even when his kicks + punches keep me awake at night.
673. random funny moments. Today Kai recognized Lightening McQueen from cars on a box of pull-ups at Walmart. He was so excited and proud, he kept saying "white-neen" over and over. Another little anecdote: over the weekend he was full on belly laughing in his sleep at 1am.
674. sleepy morning snuggles. Lately when I hear Malakai waking up + I go in. I'll sit next to his bed + he'll climb into my lap and just melt into my arms for up to 15 minutes. It's truly the best part of each day.
675. Intentional greetings. Life is so hurried that it's nice when Ben + I can pause and actually greet each other with a kiss when he gets home from work.
676. sunny afternoons in the backyard.
677. my smartie pants toddler. I can feel myself overflowing with pride + joy when he recites all the primary colors, along with handful of numbers and letters. He's such a little sponge!
678. not having any clue what to name our new baby boy. While it's beyond frustrating at times, I like that when people ask I can't accidentally slip (since we're keeping it a secret til his birth-day).
679. a much needed phone date with a dear friend.
680. Family outings. Running errands is so much easier and more enjoyable when we all go together.
What about you? What are 10 things you are thankful for this week?