I am a bit shocked at the low entries in this giveaway, but hey, better odds for those that did enter!
The winner of the White Citadel from
Green Town Toys
is...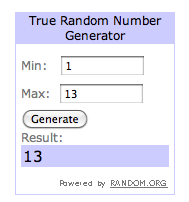 I've emailed you, please respond in 48 hours so I don't have to choose an alternate.
More giveaways coming in the near future, but we'll be taking a break from them for just a bit to breath and reset from all the crazy prize madness going on around here.