Okay, that's a little bit of a lie. I have my down moments but I'll surely take the aches + pains over the nausea + extreme heartburn any day. Tylenol has been a good friend of mine lately, although I try to just tough it out for the most part I usually need some relief at the end of the day.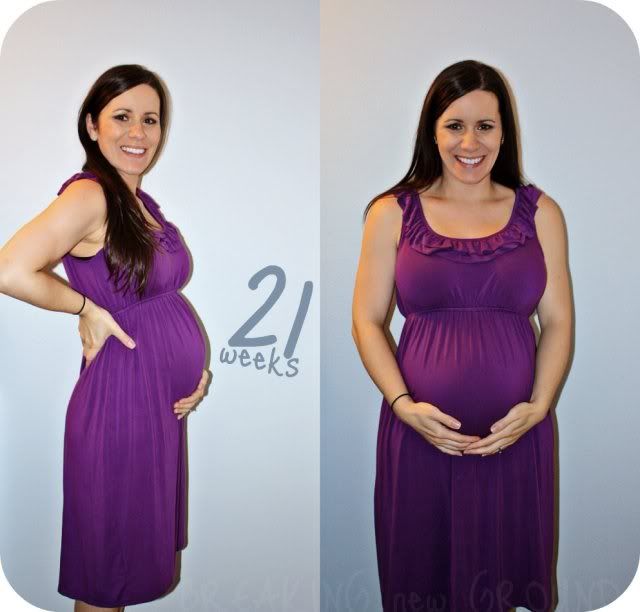 A few things about this week's picture:
1. we took this picture last night so the lighting was bad.
a. notice the shadow adding a few inches to my belly.
b. the coloring is weird because again, bad lighting. AKA a 150 watt torchlight to my right.
2. At the end of the day I look like a tired mess.
a. I wore this dress to church, then changed to take a nap, then changed back into it to meet some friends for dinner at
Five Guys
, then changed into some jammies when we got home because the dress smelled like fries...then put it back on AGAIN when I realized I wanted to wear it for this picture. whew!
Anyway. Here are this week's stats:


How far along?
21 weeks
Total weight gain/loss:
12 lbs. as of my last appointment on 5.26
Stretch marks?
no new ones.
Maternity Clothes: exclusively, sigh.
Sleep:
a lot better after getting out my
pregnancy pillow
. Ben calls it a cocoon.
Best moment this week:

watching Kai swim at my cousin's birthday party. He LOVED the water!
Movement: mostly at night, when I'm going to bed of course.
Gender: BOY!
Food Cravings: constantly cold drinks, fruit, smoothies, ice cream... it must be summer!
Belly Button in or out?
getting flatter.
What I miss:
clothing options. I'm only able to wear maternity pants now and I don't have a whole lot that fits well being smaller this time around.
What I am looking forward to: baby showers, father's day, wedding showers, our anniversary....we have a busy summer ahead!
Weekly
Wisdom
: stretching does wonders! I've done a little bit of light yoga in the mornings and it really helps my back.
Baby Brain Moment of the Week:

forgetting people's names. Thankfully it's when referring to them and hasn't happened face to face yet!
I'll be back later today or tomorrow to update on our weekend.