I just want to point out a few new things around the homepage here ( you'll obviously need to click through if you're in reader).
On the left there's a new poll...well my first ever poll actually. We have our big 20 week ultrasound in 3 weeks and I thought it would be fun to have readers vote on whether they think we're having a boy or a girl this time around. So far among close friends + family who have taken a guess, it's leaning towards girl...but I'm thinking that's just because we already have a boy. What do you think?
On the right there's a button from Circle of Moms. Someone very sweet nominated Breaking New Ground for the Top 25 Pregnancy Journals. You can vote once a day if you would like. No need to sign up for anything, just click the icon and then click the vote button when you get to the new page. That's all!
Just below that there is another new button about sponsored ads. I am trying to raise funds for Malakai's upcoming surgery and thought I could offer sponsored ads to anyone who wants to promote a blog, store, or other website. Click on the button or contact me
here
and I'll get you a rate sheet and answer any questions you may have. I'm offering SUPER low prices since I'm new at this!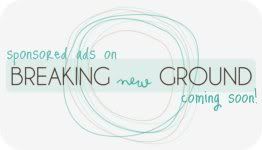 Speaking of fundraising. I'm working on another BIG fundraiser that you won't want to miss. It'll appear here before the end of May. I'll be sure to hint at it some more in the coming weeks to make sure you don't miss it.
So there you have it, some general updates on what's new around the blog. As always, feel free to contact me by
email
if you have any questions or want to know how you can help with our efforts to fundraise.