It has been a while since I've done a shop feature. I love to introduce you to new shops, especially handmade goods which you can find all over Etsy. This feature is especially exciting because I know the owner and her family! I worked with Tricia, her sisters, and their mom at Northwest Christian University in years past.

Where are you located + are you from there originally?
I was born and raised in Eugene, and I am still living in and loving the city of Eugene.
How did you come up with your shop name?
My product name is based solely on the purpose of the product, what makes an outfit more cute…well a clip does, thus Cutie Clips.
How long have you had your shop?
I started making clips when my niece was born with a full head of hair. I enjoyed making the clips so much that I recently started creating more product and decided to start selling to the public.
What inspires you?
I get inspired by seeing ribbon that I can't pass up and need to use for something. Plus the clips look so cute in little girls' hair and who can't be inspired by that!
What is your favorite item in your shop?
I love all the items but I like the bows the best.
Do you have any other jobs or hobbies?
I also love to scrapbook, play and spend time with my niece and nephew, and I am always looking for ways to get creative.
Share an interesting fact about yourself.
I am the oldest of 4 girls in my family.
What do you hope your future holds?
My hope for the future is that I will always show appreciation for what I have, find joy in all things big or small and create unforgettable memories every chance I get.
Shandell's Review
Tricia sent me a couple sets of her Cutie Clips and Cutie Clip Bows for me to review. I maybe might have tried one on Malakai at some point. there are no photos, so you don't have any proof (don't tell Ben).
I think that she has a great eye for detail, coloring, and textures. All of the Cutie clips are absolutely precious and really well made. They have a textured lining on the inside so they grip on even the finest of hair.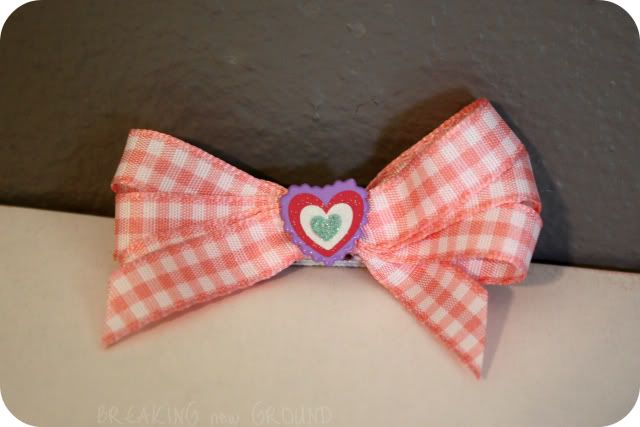 As you can see in the photos of her niece above, the bows and the clips are adorable and appropriate for babies and toddlers. I think even big girls and teenagers could appreciate some of the styles, especially the clips.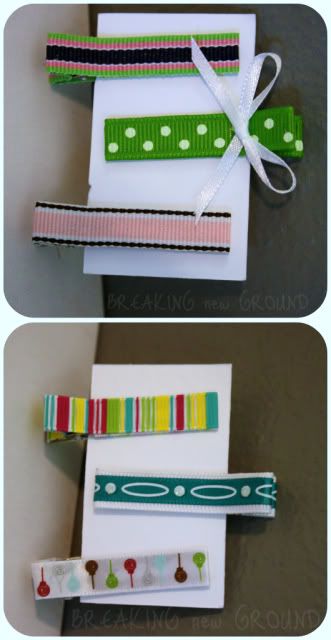 Check out her shop, the prices are excellent and there are plenty of colors, patterns, + styles to suite your unique taste.
Giveaway!
Tricia is providing the same set I reviewed for one of you lucky readers to win!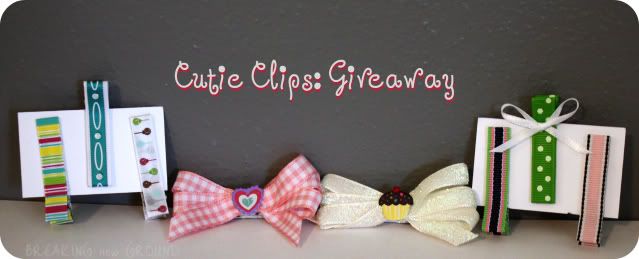 For your chance to win, leave a comment on this post relevant to the following entry requirements. Be sure that your email address is easily accessible in your blogger profile or leave it at the end of each entry comment. example: shanleann1 at gmail dot com (to avoid spam + such). Be sure to leave one comment for each entry.
Visit
Cutie Clips
on Etsy. Then come back and leave a comment on this post with your favorite item.
Extra Entries:
(mandatory entry must be completed before extras count)
~like
Cutie Clips on Facebook
, leave a note on her wall that Breaking New Ground sent you (1 entry)
~Favorite ("heart")
Cutie Clips
on Etsy. (1 entry)
~
Share this giveaway on Facebook, be sure to link back to this specific post (1 entry)
~Share this giveaway on Twitter, be sure to mention Breaking New Ground and use @ShanLeAnn and the url to this post (1 entry)
~
Publicly follow Breaking New Ground through
Google Friend Connect
(2 entries)
~Post the Breaking New Ground badge on your site + let me know where I can find it. (2 entries)
~Purchase an item from Cutie Clips by April 26th (4 entries)
Giveaway ends at 11pm PDT on April 26th, 2011. Winner will be announced here on April 27th.
Winner will be selected at random via random.org and will have 48 hours to respond in order to claim the prize or it will be awarded to an alternate.
Open to U.S. residents only. All comments will be verified. Comments subject to removal without notification based on their relevance to contest. All comments will be verified. So, please be sure to follow instructions carefully.
Questions? As always click on the "email me" button to send me a message. Please do not leave a comment here that isn't intended to be an entry into the giveaway. However, feel free to include additional comments within your entry if you want to leave some love for Cutie Clips.
LOTS of ways to enter! Best of luck!