Yesterday I hit 12 weeks in this pregnancy, by the standards of my
new due date.
PHEW! It's weird to sort of hit a milestone twice. Although 12 weeks isn't yet the 2nd trimester (it's actual 14 weeks and 3 days or something silly like that) it's still a milestone for when the nausea is supposed to dwindle and energy is supposed to come back. I've been feeling it VERY SLOWLY.
With the sun staying out longer and the rain not coming down 24/7 we've been able to get out for a few walks recently. Today it looked a LOT warmer than it was outside, there was a nasty wind that froze our ears. We walked 2 miles and played at the park before lunchtime anyway. I always seem to feel better and sleep better when we get out of the house.
Here's me today at 12 weeks 1 day. I am SO not wearing this outfit today, I actually wore it Sunday and wanted to get a picture in it but we slacked on the pictures this weekend. So I just put it back on for the photos and now I'm back in my t-shirt + yoga pants...
And just for fun, here's what I looked like in this dress when I tried it on for the first time last July. I was shopping at Target by myself and couldn't decide between 3 dresses so I sent photos to Ben for advice... this of course was one of the winners. By the way, they are selling these dresses again and they're only $15!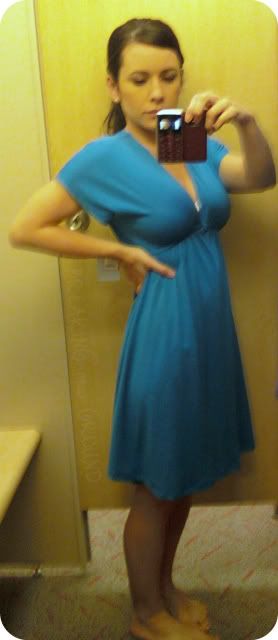 How far along?
12 weeks, 1 day...for realsies...I hope.
Total weight gain/loss:
+3 lbs.
Stretch marks?
nope
Maternity Clothes:
I've started wearing some maternity jeans because I can't stand any pressure on my belly, but I've been LIVING in my new roll top yoga pants.
Sleep: different every night. Last night was a bit restless but mostly because my husband set the clock in his sleep multiple times throughout the night...
Best moment this week

:
hearing little ones heartbeat at my last appointment.
Movement: once every day or two at night I feel little movements.
Gender: we'll find out at the end of May
Labor Signs:
no thankyou.
Food Cravings:
jamba juice!
Belly Button in or out?
in
What I miss:
an occasional glass of wine.
What I am looking forward to:
Ben coming to the next appointment so he can hear little swimmie's heartbeat for the first time.
Weekly
Wisdom
: stay active, even if you feel icky and have no energy...but don't push it!
Milestones: hearing the heartbeat on the doppler.
Baby Brain Moment of the Week:

making up random words or not knowing the word for normal everyday things. If I forget your name, don't take it personally!