I have the most fantastic husband on the planet!
I just came out of staff meeting this morning and he walked into the office with a giant bouquet of stunning flowers, including my favorites, stargazer lilies.
He said that he got them just because and also because I'm carrying our boy.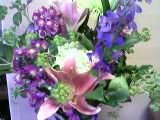 I'm just giddy- I can't stop looking at them :)