Ben and I on Easter Morning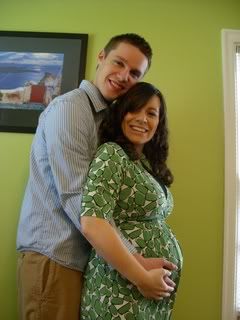 How far along? 26 weeks 3 days
Total weight gain/loss: gained 20 lbs. already!
Maternity clothes? all but a few long shirts that I'm still able to fit into
Stretch marks? I thought I had new ones, but it was a false alarm. phew!
Sleep: naps seem way better than sleeping at night.
Best moment this week: daddy reading a story to his son
Movement: SO much. My SIL felt it on Saturday and was SO excited.
Food cravings: everything...I want to eat it all!
Gender: Still a boy!
Labor Signs: none.
Belly Button in or out? It's flat on the bottom and starting to poke out at the top
What I miss: the absence of back pain and middle of the night charlie horse leg cramps.
What I am looking forward to: it's hard to say- I'm at the point where it seems like I'm going to be in pain and agony for the next three months.
Weekly Wisdom: take PNVs for your own health, even after they have no effect on the babe.
Milestones: being huge...and everyone noticing.