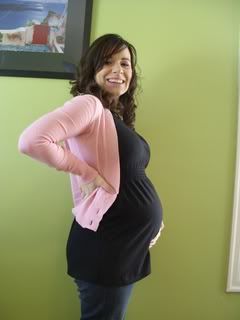 How far along? 25 weeks & 1 day
Total weight gain/loss: somewhere between 10 and 15.
Maternity clothes? make me feel like my wardrobe shrank by over half!
Stretch marks? I think a few light ones
Sleep: it's either getting better or I'm just learning to deal with the aches and pains
Best moment this week: my co-worker/friend seeing him move my belly.
Movement: ALL the time, yesterday was almost none stop.
Food cravings:everything.
Labor Signs: please no.
Belly Button in or out? flat
What I miss: my pre-pregnancy body
What I am looking forward to: baby showers- first one is May 9th!
Weekly Wisdom: don't take a hungry pregnant woman to the grocery store.
Milestones: he moved up and flattened out my belly button.